Ventilation through a self-inflating bag or a manual resuscitator, such as AMBU®, is a method to maintain blood oxygenation in the event of an emergency response. Automating the operation of the self-inflating bag is a way to fulfil the need for low-cost mechanical ventilation; this method has several advantages, namely the possibility to produce it in large quantities and to adapt it to different systems of self-inflating bags.
The work carried out by a team of students at Rice University (USA) was the main source of inspiration for this prototype.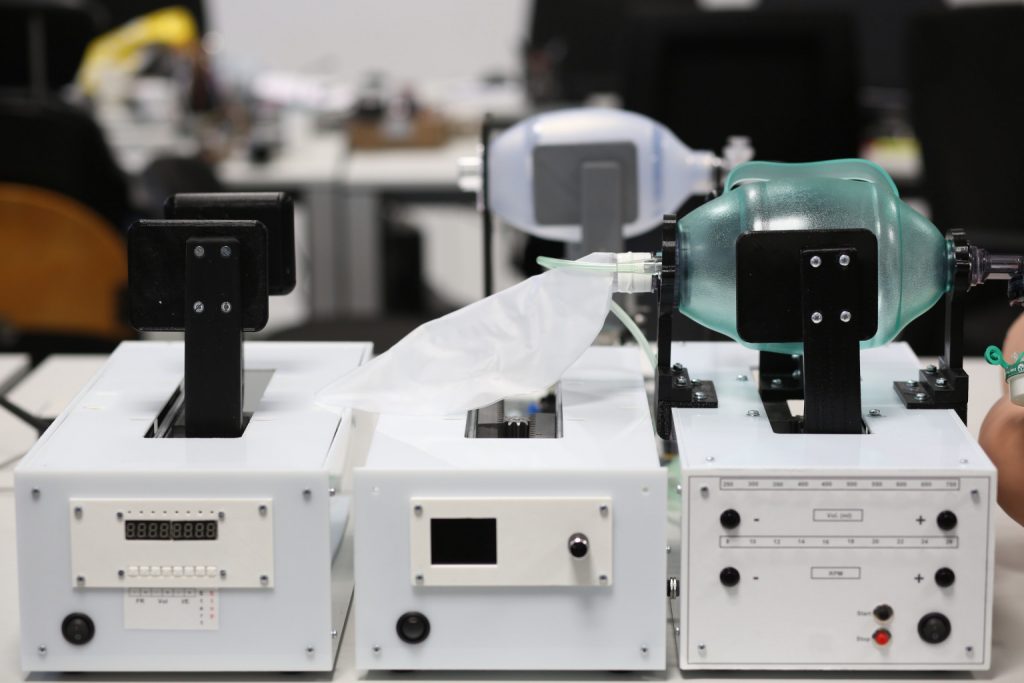 PNEUMA technical specifications
It mimics and automates the manual use of the self-inflating bag, and it is not a ventilator for Intensive Care Units;
Volume control (250 – 700 mL);
Control of respiratory rate (8 – 26 breaths per minute);
Programmable I:E ratio;
Pressure relief valve (insufflator) for excessive pressure;
Compatible with several models of self-inflating bags for adults (tested with 4 different models); built to incorporate HEPA filters and maintain PEEP through an adaptive valve (optional);
Can be used in ambulances (12V-DC power supply);
Large contact area with the inflation bag to increase its durability;
Alarms: stoppage, operating profile and deviation from the operating range.
Benefits of PNEUMA vs. other solutions
Preclinical and clinical validation (performance and safety)

Resorts to an approved medical device (the self-inflating bag), thus replacing the operator and not the equipment;

Lower usage risks

No direct contact with the patient – the only surfaces in contact are masks or endotracheal tubes (ET) attached to the self-inflating bag;
Specifications compatible with class I of the EU MDR classification;
Ongoing contacts with INFARMED, in order to validate the specifications (WHO + MHRA).

Freedom of operation

Based on open source technology from Rice University;
Absence of relevant patents active in Portugal.

Scalability

It can be replicated quite quickly, faster than new ventilators.